Printed Edition
A printed edition of this Special Issue is available at
MDPI Books...
.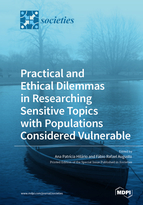 Peer-Review Record
Invisible Vulnerabilities: Ethical, Practical and Methodological Dilemmas in Conducting Qualitative Research on the Interaction with IVF Embryos
Reviewer 1: Anonymous
Reviewer 2: Anonymous
Received: 15 November 2019 / Revised: 19 December 2019 / Accepted: 24 December 2019 / Published: 27 December 2019
Round 1
Reviewer 1 Report
I read with great interest the Manuscript titled "Invisible vulnerabilities: ethical, practical and methodological dilemmas in conducting qualitative research on the interaction with IVF embryos" (societies-657094), which falls within the aim of Societies.
In my honest opinion, the topic is interesting enough to attract the readers' attention. The manuscript is well written and the conclusions are supported by the reported data. Nevertheless, authors should better discuss some points and improve the discussion citing relevant and novel key articles about the topic.
Authors should consider the following recommendations:
- Despite the possibility to use IVF for its treatment, infertility still represents a potential cause of psychological imbalance and may negatively affect sexual function of the women and of the whole couple. Since the importance of the topic, I suggest stressing this point referring to: PMID: 27750491; PMID: 29336414; J Endometr. 2017;9(2):112-115. DOI: 10.5301/je.5000274
Author Response
Please see the attachment.
Author Response File:
Author Response.pdf
Reviewer 2 Report
In my view, papers that lack empirical results, and by that I mean qualitative or quantitative data analyses, have an unusually high bar for publication. They really must be innovative and advancing the field either theoretically or methodologically. I do not see that paper here. A research protocol or proposal has some merit as an idea, but limited significance as a research contribution. On the review form, I am asked, "Are the results presented clearly?" There are no results here, and I am a results-based reviewer. My advice is to come back to the journal with results upon conducting the research. I am especially perplexed by the fact that the authors already have nearly two dozen interviews, but have (more or less) a research proposal here. Move forward on the interview results and write the paper with those results centrally featured in it. There are some questionable design decisions here. (1) Chief among them is treating informed consent an an ethnographic encounter. The rationale for elevating what is supposed to be a perfunctory prelude to actual research is treated as actual research. That is unclear to me. (2) Also, the use of various methods is laudable, but each one needs a justification and that is not provided. Interviews are great to distill narrative accounts, ethnography is designed to examine everyday social practices, etc. I don't see each method contributing to the larger whole here. The paper says that it examines ethical, methodological, and practical challenges related to studying vulnerable populations, but I don't see all of these getting sufficient attention. Perhaps the paper's focus is too broad given those three areas. Again, it is difficult to tell because this paper would be so much more compelling after the research has been conducted rather than offering conjecture about what those challenges may be beforehand. If this is a reflection on research experience piece, the **experience** in the form of completed research needs to be there. Without that, there is no basis for reflection other than prior literature and a proposal.
I do wish I could be more positive, but my predisposition for empirical research is clearly evident here. Best wishes on what I suspect will be a sound project once the research is more advanced or completed.
Author Response
Please see the attachment.
Author Response File:
Author Response.pdf